Bard
Talk

0
755pages on
this wiki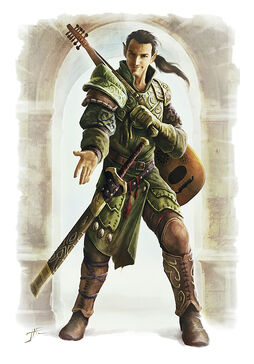 Bard is an arcane leader class in fourth edition Dungeons & Dragons.[PHB2 66]
Primary Role: Leader, Secondary Role: Controller
Power source: Arcane
Alignment: Any Neutral(1st and 2nd editions) Any non-lawful(3rd and 3.5 editions)

Key Abilities: Dexterity, Intelligence, Charisma
Dungeons & Dragons 3rd edition Edit
In Third Edition Dungeons and Dragons, the bard class continued its change from a druidic loremaster in first edition into a jack-of-all-trades (retaining mainly the original Bardic Knowledge ability, an almost universal chance to know anything based on character level and Intelligence).
In Third Edition D&D, bards now could be any non-lawful alignment, meaning Bards could no longer be Lawful Neutral, but now could be Chaotic Good and Chaotic Evil. This was explained on the grounds that a bard wanders freely and is guided by intuition and whim. The rules also state that a bard's powers are incompatible with law and tradition, although authentic historical bards were in fact keepers of traditions and knowledge; this portrayal of the bard might be a misinterpretation, creative or unintended, of the laws which put a bard above a common free man due to their erudition and place as sacred speakers of rote and history.
The D&D bard, despite the roots of the word itself, is inspired more by wandering minstrels who were indeed considered "rogues" of a sort (for instance, attempting to earn free food and rooms at inns through doing odd jobs like killing rats, singing, or just wooing the bartender). D&D bards are described as not necessarily opposed to tradition, but to the staleness and risk of corruption that comes with a settled life.
Bardic magic also changed once again. Now, like the sorcerer, the bard casts arcane magic but without a need for spellbooks or preparing specific spells; unlike Second Edition AD&D, bards are now limited to a list of specific bardic spells. Unlike wizards and other arcane spellcasters, they can cast a small number of healing spells like Cure Light Wounds (a relic of the druidic origins of the class)
.excerpt from Wikipedia